Typica (aka Criolla) This is the base from which many coffee varietals have been developed. It has very low production, but an excellent cup quality.
Blue Mountain is a famous Typica coffee, favoured for its resistance to the coffee berry disease and ability to thrive in high altitudes. First grown in Jamaica and now in Kona, Hawaii – but cannot adapt to all climates and maintain its high quality flavour profile.
Bourbon This varietal was name from the island of Bourbon where it was first cultivated. It produces 20-30% more coffee than Typica, but has a smaller harvest than most coffee varietals. Cup quality is excellent and similar to Typica.
---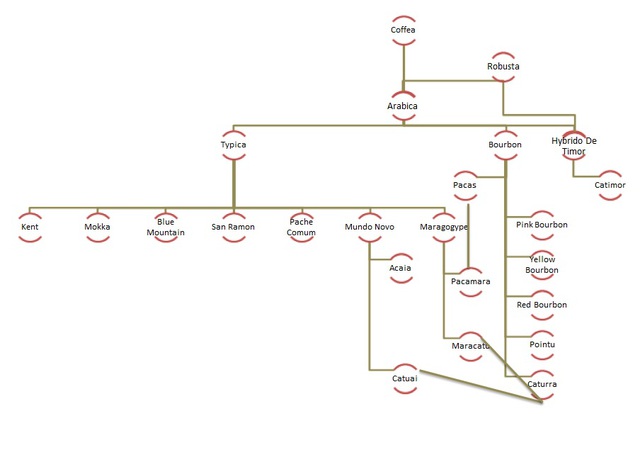 Acaia A very rare varietal found in Brazil and features in Cup of Excellence lots. It is a natural hybrid from the Mundo Novo. Fruit is red and large.
Caturra This is a mutation of Bourbon discovered in Brazil. It has high production and good quality, but requires extensive care and fertilisation. It adapts well to almost any environment, however quality is higher (and production lower) at higher altitudes.
Catuai This is a high yielding coffee plant resulting from a cross between Nondo Novo and Caturra. The fruit does not fall off the branch easily (good for areas with strong winds or rain). The fruit is mainly yellow, but also red.
Catimor This is a cross between Timor coffee (resistant to rust) and Caturra coffee – created in Portugal in 1959. Maturation is early and production is very high (yields equal or greater than other commercial coffee varietals). At low altitudes there is almost no difference in cup quality between Catimor and others, but when grown above 4,000 feet, Bouron, Caturra and Catuai have a better cup quality.
Geisha (aka Abyssinian) Originating in the Geisha forest, S.W. Abyssinia in about 1931, it was made famous in Panama by the Peterson family in 2002. It is low yielding and pest friendly – but resistant to coffee rust. Highly esteemed in coffee circles.
Icatu An Arabica / Robusta hybrid developed in Brazil that grows as low as 800ft and is also pest resistant. This is a relatively young varietal – but its performance in Brazil's CoE competition is promising. The fruit is large and red or yellow. Cup characteristics are low acidity, medium to full body, sweet dark chocolate taste with a hint of citrus.
Maracatu (aka Maracaturra) Found in Central America, this is a mutant of Maragogype and Caturra. Typical taste profile is bright acidity which is very complex – bright fruity and well developed.
Maragogype This is a mutation of Typica and was first discovered in Brazil. Production is low, but the seeds are very large. The cup characteristics are highly appreciated in certain coffee markets. Cup characteristics are high acidity, bright citrus fruits and floral properties.
Mundo Novo A natural hybrid between Typica and Bourbon. First found in Brazil, the plant is strong and resistant to disease, occupying around 40% of the coffee growing areas of Brazil. It has high production, but matures slightly later than other kinds of coffee. The fruit is red, large and rounded. It is sweet with a thick mouthfeel and low acidity.
SL28 A hybrid developed in Kenya by Scott Laboratories (SL) in the 1930s using different mutations of Bourbon and Mocha, Yemeni Typica. It has a copper coloured leaf, produces broad bean sizes and has a fairly low yield. Some believe there is influence from both Sudanese and Ethiopian strains in this varietal. Cup characteristics are intensely citric, sweet, balanced and complex in flavour.
SL34 Again developed by Scott Laboratories, SL34 is a mutation of Bourbon. Known for producing top quality at medium to high altitudes and being resistant to high rainfall. It has bronze tipped leaves. Cup characteristics are complex citric acidity, heavy mouthfeel and clean, sweet finish.